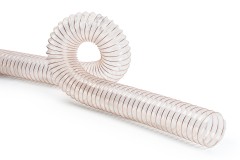 Universal hose for the woodworking, plastic and chemical industry for transportation of light solids and for air and gas transportation.
PU hoses main characteristics:
• Wall thickness 0,4 - 0,6 - 0,9 mm.
• Wall made of abrasion resistant polyurethane.
• Copper plated spring steel spiral embedded into wall.
• Good tensile and abrasion strengths, free of softeners, halogen free and cadmium free.
• Temperature range: -40ºC to +90ºC (+125ºC short term)
• Package of 10 m. Available in cuts.
• High quality, made in Germany according to FDA norm.
PU-ECO
(wall thickness 0,4 mm)

 

PU - STANDARD
(wall thickness 0,6 mm)

 

PU - PREMIUM
(wall thickness 0,9 mm)
Inner
Weight
Vacuum
Pressure
Inner
Weight
Vacuum
Pressure
Inner
Weight
Vacuum
Pressure
Ø mm
g/m
mbar
bar
Ø mm
g/m
mbar
bar
Ø mm
g/m
mbar
bar
51
 194
 200
 0,4
80
492
150
0,4
80
771
150
0,6
60
 227
 200
 0,4
102
580
100
0,3
102
891
100
0,5
76
 325
 200
 0,4
120
680
100
0,3
120
1045
100
0,5
80
 338
150
 0,3
127
720
100
0,3
127
1105
100
0,5
90
 351
 150
 0,3
140
792
100
0,3
140
1215
100
0,5
102
 371
 100
 0,2
152
859
100
0,3
152
1318
100
0,5
120
 435
 100
 0,2
160
903
50
0,2
160
1386
50
0,3
127
 565
 100
 0,2
203
1187
50
0,2
203
1623
50
0,3
140
 622
 100
 0,2
250
1459
20
0,1
250
1994
20
0,2
152
 675
 100
 0,2
300
1855
20
0,1
300
2388
20
0,2
160
 710
 50
 0,1
350
2162
20
0,1
350
2783
20
0,2
180
 742
 50
 0,1
203
 775
 50
 0,1
250
 1163
 20
 0,05
300
 1394
 20
 0,05
350
 1625
 20
 0,05