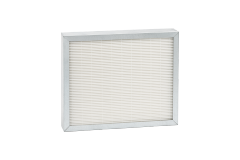 MPL panel filters are ussually used in HVAC units, where there is not enough space for a pocket filter.
For our MPL filters we only use high performance synthetic media with integrated NANOfibre technology and rigid metal frames.
All Ekofiltras filters are produced using only 100% solar energy from our own solar power plant!
The advantages of our MPL panel filter:
- Best filter media usage factor
- 100% synthetic through PP-spacer beads
- 100% humidity resistant
- completed with rigid metal frames that stay stable during whole operation period
- Excellent stability also in applications with high air velocities
- Damage resistant
- 100% incinerable filtration media
We use different MPL pleat heights 8- 92 mm. Our standard frame size can be 10-130 mm.