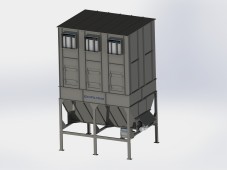 EKO MF type has an automatic filter cleaning system, units are particularly suitable for industrial processes by collecting different dust participial.
Our EKO MF filtration units are used in many processes:
• Wood processing and furniture industry
• Textile industry
• Food industry
• Plastic processing industry
• Cement industry
• Asphalt mixing plants
The entire Ekofiltras production is created using only 100% solar energy from our own solar power plant!
EKO MF dust filtration units are made for outdoor use, for the suction of dusty air with shavings and dust. During the filtration procedure cleaned warm air remains inside the building, reducing heating costs. EKO MF type units has automatic filter cleaning. Sleeve type filters shake automatically when fan finishes the job. The recommended maximum working time is 4 h. Supplied without fan and automation (selected according to the specific requirements of the client). The waste discharges from the filter with screw conveyor.
EKO MF filtration - separation unit set:
Galvanized steel case.
Sleeve type filters, made of polyester fabric with special surface treatment. The surface of the fabric is very smooth, it requires least
Discharging waste from the filter using a spinner and a rotary metering unit.
EKO MF type units has automatic filter cleaning.
Additional options:
Pneumatic conveying fan
We can produce non-standard dimensions filters
Control automation
We can select different filtration material