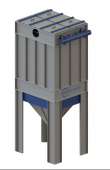 Sleeve type negative pressure filter with compressed air cleaning system.
Application areas of EKO SF dust filtration units:
» Woodworking
» Furniture industry
» Packaging of loose products
» Textile industry
» Metalworking
» Food industry
» Plastic processing, etc.
The entire Ekofiltras production is created using only 100% solar energy from our own solar power plant!