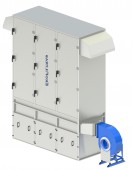 EKO R VIBRO closed type has an automatic filter cleaning system, units are particularly suitable for industrial processes by collecting different dust participial.
Our EKO R filtration units are used in many processes:
• Wood processing and furniture industry
• Textile industry
• Food industry
• Plastic processing industry
• Cement industry
• Asphalt mixing plants
All Ekofiltras products are manufactured using only 100% solar energy from our own solar power plant!
EKO R "VIBRO Closed" dust filtration units are made for indoor and outdoor use, for the suction of dusty air with shavings and dust. The housing can be acoustically isolated, reduce the volume of the equipment.During the filtration procedure cleaned warm air remains inside the building, reducing heating costs.
EKO R "VIBRO Closed" type units have very large filtration  area, as it come with sleeve type filters. Big filtration surface is the main factor, determining good suction power for the system and ensuring high air speed in the ductwork.
EKO R "VIBRO Closed" filtration - separation unit set:

1) Galvanized steel case.
2) Fans with aluminium self cleaning impellers, which minimize the probability
of sparking, when a steel part gets in to the system.
3) High quality motor starters with overheat protection.
4) Long lasting dust collection bags with easy fastening belts and special grips.
5) Sleeve type filters, made of polyester fabric with special surface treatment. The surface of the fabric is very smooth, it requires least
efforts for cleaning.
6) EKO R "VIBRO Closed" type units has automatic filter cleaning.
7) EKO R "VIBRO Closed" type units are not designed for  explodes materials