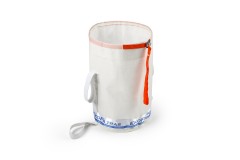 Our  dust collecting bags are made of steady polypropylene fabric, with tightening belts and handles. These multiple-use bags are easy to fix and to empty.
Dust collecting bags can be made of any size. Standard size bags are sold from our stock. Standard sizes are Ø 500mm, H- 1000mm and Ø 560mm, H- 1000mm.
All UAB Ekofiltras filters are produced using only 100% solar energy from our own solar power plant!