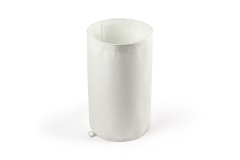 We produce bag filters from polyester nonwoven fabric. Unfortunately filter bags are  less effective than the sleeve filter due to their small filtration surface .
Some units have dust collection bags made of filtering nonwoven. In these cases we make filter bags with  tightening belts and handles, so they are easy to fix and to empty.
Bag filters are made according to customer sizes and needs.
All Ekofiltras filters are produced using only 100% solar energy from our own solar power plant!