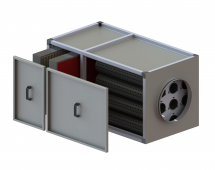 Activated carbon filters shell be used for air filtration of undesirable odors, chemical compounds, solvents and others pollutants.
Main areas of application:
Exhaust from paint shops and spraying booths and from welding units, exhaust from waste water treatment plants, exhaust from nuclear power plants, adsorption of harmful pollutants in the chemical and electronic industry, intake into airport and station halls, removal of odour from kitchens, meat production, intake and exhaust from operating rooms, intensive care units and clean rooms, production of electronics and other areas with occurrence of harmful gases or odour that must be removed – meeting rooms, museums, hospitals, laboratories, computer rooms, printing rooms, filling stations, car parks and garages.


Factors that affect the performance of activated carbon:
| | |
| --- | --- |
| Air temperature and humidity | The adsorption temperature should not exceed 40 °C. It may be higher in case of impregnated activated carbon. The relative air humidity up to the maximum of 60-80%. |
| Dust particles | Activated carbon is very sensitive to dust particles and, therefore, it is necessary to install effective prefilters in filtration class F7. |
| Air flow velocity | In order to achieve the best possible adsorption, the time of contact of gas molecules in the activated carbon layer must be as long as possible. |
We assemble filtration units with activated carbon and prefilters according to each customer needs. AC filtration units can be assebled with or without the industrial fan.