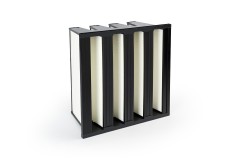 COMPACT FILTERS can be used instead of the pocket filters, where big filtration area and a high air flow is common.
Compare with the pocket filters, compact filters have 3 times more filtration area.
Standart CMPF type filter depth 292 mm.
Efficiency – M5 – H9 classes.
CMPF filters can be supplied only in standard dimensions.
B x H x L (mm):
592 x 592 x 292 (>298)
592 x 287 x 292 (>298)
592 x 490 x 292 (>298)
We can also supply compact filters with special filtration material, e.g. with activated carbon filtration media.