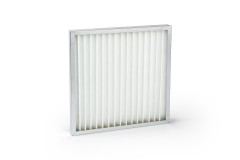 PLT and PLT XL panel filters are ussually used for general applications in HVAC units as prefilters or as the main filters, where there is not enough space for a pocket filter.
For our pleated panels we use only high performance selfsupporting synthetic media, which we glue to the rigid metal frames.
All Ekofiltras filters are produced using only 100% solar energy from our own solar power plant!
The advantages of our pleated panel filters filter:
- Self supporting thermopleated synthetic media, glued to the metal frame
- Filtration efficiency G3 - G4 - M5
- 100% humidity resistant
- Flame resistancy according to DIN 53438 - F1/F1/K1
- Completed with rigid metal frames that stay stable during whole operating period
- Metal frame used for our PLT filter is the best solution for over sized panel filters
- PLT XL filters have twice big filtration surface as regular PLT panels.
We use standard PLT and PLT XL pleat heights of 22, 44, 92 mm. Our standard frame sizes are: 25, 46, 96 mm. Other sizes are available upon request.