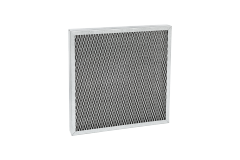 These high quality metal grease filters type RBF are used on the kitchen extract systems.
Grease is collected in the wire mesh media and with regular cleaning (at least once a week) will last for many years.
All Ekofiltras filters are produced using only 100% solar energy from our own solar power plant!
Kitchen grease filter RBF advantages:
Available in stainless steel or galvanized steel
Filtration media made of knitted wire mesh,- galvanized steel, stainless steel or aluminium
Expanded galvanized/stainless  sheet facings to both sides
Handles are fitted to the 'H' dimension
RBF filter has drain holes in the corners
Uniform loading and low resistance to air flow
Easy to clean, if  cleaning is made constantly
Can be manufactured to any required size
Standard RBF filter frame - 25mm, 50mm. Other size frame under request.