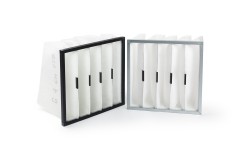 EkoFiltras manufactures any size pocket filters from G3 to F9 efficiency, made of high quality and innovative filtration materials.
All our pocket filters are assembled with rigid plastic or metal 25 mm width frames. Other size frames are available upon request.
You can choose between EkoFiltras Standard or EkoFiltras Premium pocket filter lines.
"EkoFiltras Standard" line pocket filters - the best value for money
Made of Sawascreen Eco-plus materials by Sandler AG
Appropriate pressure drop
Integrated pre-filter for high dust holding capacity and long operating life
Very good filtration performance according to the EN779 Standard
Low price
"EkoFiltras Premium" line pocket filters - the highest quality at reasonable price
Made ofSawascreen Premium-plus materials by Sandler AG - one of the best synthetic filtration materials on the market today
High dust holding capacity and very long operating live, ensured by thick pre-filter
High efficiency throughout all operating live ensured by thick pre-filter
High filtration performance according to the latest norm EN779 2012
Comparatively low pressure drop
This filter media reaches a level of performance similar to that of glass fibre media and can fulfill theEN779 2012 norm